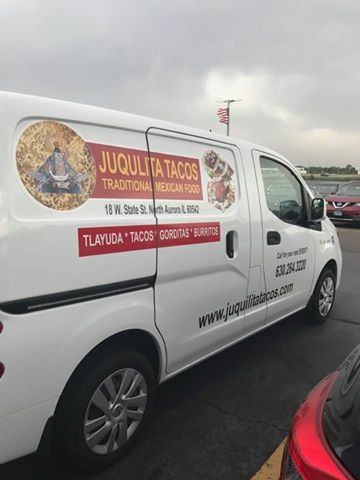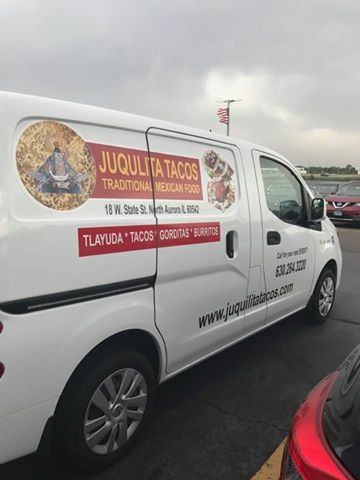 TAQUIZA SERVICE
Fresh, made-to-order tacos available at your location for your parties, business events and festivals.
$500 for 50 people
2-hour onsite cooking service
Meat (choose up to 3):
Asada (steak)
Al pastor (marinated pork)
Cabeza (head meat)
Carnitas (fried pork)
Chorizo (Mexican sausage)
Arabe* (seasoned pork)
Accompaniments:
Corn tortillas (*flour)
Cilantro
Cebollas (diced onions and grilled onions)
Jalapeños asados (grilled jalapeños)
Limones (limes)
Salsa verde (green salsa)
Salsa roja (red salsa)
Plates and napkins
Contact Mario Cruz at 331-575-4028 for more information, custom pricing and availability.
Please schedule at least one month in advance to ensure availability.
CATERING Menu
Order takeout catering from Juquilita Tacos for all your event needs!
Sides
available as small or full trays (as specified); full trays feed around 50 people
$

18 /

$

35
Arroz (Rice)
Mexican rice
$

18 /

$

35
Frijoles
refried beans
$

15
Nachos Vegetariano
vegetarian nachos (small tray)
$

20
Nachos de Carne
picadillo (ground beef) or pollo (chicken) (small tray)
$

1.95 /

$

4.99
Quesadilla de Queso
cheese quesadilla (each) (small/large)
$

10
Charola de Chips
tray of chips
Entrées
available as full trays (feed around 50 people) unless otherwise specified
$

2 /

$

1.75
Taco Fiesta
(choose chicken, pork or steak; with cilantro and onion only) Pequeña (up to 20 tacos) / Grande (21 or more tacos)
$

100
Pollo Frito o Enchilado
fried chicken or chicken in enchilada sauce
$

120
Bistec a la Mexicana
steak, Mexican-style
$

100
Carnitas al horno
fried pork
$

120
Costillas de Puerco (en Salsa Roja o Verde)
pork riblets (in red or green salsa)
$

120
Pollo en Mole
chicken in mole sauce
$

50 /

$

100
Fajitas de Pollo
chicken fajitas (small/full)
$

65 /

$

120
Fajitas de Res
beef fajitas (small/full)
$

65 /

$

120
Fajitas de Camarón
shrimp fajitas (small/full)
Meat Trays
available as small or full trays (full trays feed 50 people) (tortillas, cilantro and onion are extra)
$

45 /

$

120
Pollo
chicken (small/full)
$

65 /

$

150
Al Pastor
marinated pork (small/full)
$

65 /

$

150
Asada
steak (small/full)
$

65 /

$

150
Desebrada
shredded beef (small/full)